Training at steute
We are always on the lookout for motivated team players, people who like tinkering and all things technical, as well as those who are excited by fascinating tasks and new challenges.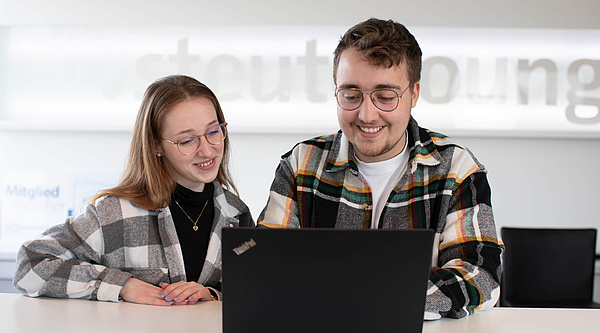 We see all trainees and students as individuals with their own needs, and we encourage them with this in mind. Only by combining specific expertise with individual interests and talents can we create the team spirit which marks us out. Ideas and questions are always welcome, enabling challenges to be mastered.

We encourage an open and friendly atmosphere with present-day, flat hierarchies. Colleagues and members of the management treat each other with respect.
A wide variety of training options
Training at steute will give you a solid grounding and the chance of a secure job when you finish. Our company has been training in the commercial, industrial and technical fields for years.

You can definitely look forward to taking responsibility for your own work, tackling exciting projects and the chance of a secure job when you finish. We attach great importance to training and encouraging our new recruits. After all, our trainees and students of today are our specialists and managers of tomorrow.
Video - training at steute

Superb employee benefits
You will receive extra benefits, including e.g. occupational disability insurance and retirement plan options.

Flexible working hours
A number of different models including flexible working hours and work from home mean that we are able to offer you a good work-life balance.
Business English
Would you like to improve your English? We offer in-house Business English courses and welcome your participation.

Summer and Christmas bonuses
An attractive trainee salary is enhanced by extra payments, for example Summer and Christmas bonuses.

Intensive orientation phase
When you start your training, we will explain the steute world to you step by step in a varied and stimulating orientation phase.
30 days annual leave
Sufficient rest and recuperation phases are just as important as a harmonious atmosphere at work, which is why all our employees are given 30 days annual leave.
Works canteen and subsidised lunches
Our canteen has a wide-ranging and inviting selection of delicious lunches with changing specials every day. Additional items are available during the breaks, such as diverse breakfast options, fresh fruit and various snacks.

Company events
From Summer barbecues to Christmas markets to hiking days: even when the work is done, we seek to boost team spirit and give you a chance to get to know other colleagues in a relaxed context.
Our trainees and students speak out

Silas Arius
Trainee Warehouse Logistics Operator
What I like most is driving the different conveyors, like the tugger train, the pallet truck or the forklift. At the beginning of my traineeship I took part in an official course which resulted in a driving licence for these special vehicles.
interview
Katja Böhmer
Software Project Manager
Katja Böhmer completed a dual work-study degree at steute focussing on "Digital Technologies", and was then taken on as a software project manager. In the following interview she explains how it was to be a student at steute, and why she thinks the company is a good place to train.